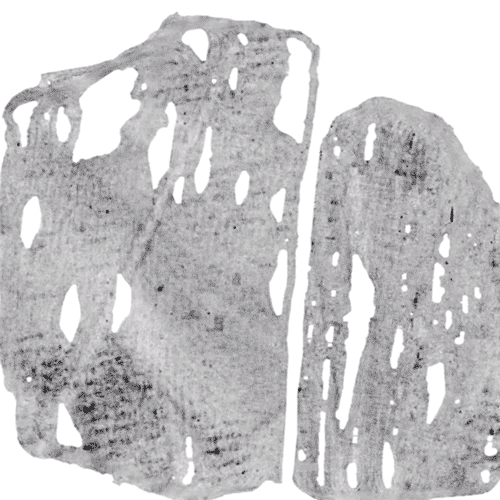 Små korn ligger tett i tett, to meter er lengden som måles til bunn, 20 centimeter til øverste jordlag. Om lagene settes sammen og gjennomlyses, kommer de til uttrykk som små bevegelige punkter. Under skimtes det nye lag, rekker av horisontale linjer kommer til syne. Punktene skyves unna og trekker seg sammen. Noen ganger kan man skimte kryssende spor fra gamle stier.
Og der, sier han, det du ser som mørke flekker, er tett masse. Kanskje det er rester etter steiner som ble satt ned for å minnes de som ligger her, og vi ser mørke, kompakte områder flere steder. De mørke feltene du ser, kan også være interessante spor. Kanskje de mange hestene og kuene som ligger her. Vår profesjon består av å stille en mengde ulike hypoteser. Røttene til trærne, sier han, skjermer for satellittene, skjuler det som måtte befinne seg under bakken, der det er røtter, vises ingenting, her kommer det frem som hvite felt. Det hender at det kommer for mye vann i jordsmonnet. Fukt og vann i jorden gir tåkete syn uten detaljer. Det er det som er så bra med tele, sier han, det kalkholdige jordsmonnet vi finner her kan heldigvis gjennomlyses.
Alt jeg ser er prikker sa hun, de er ekstremt små, i veldig bevegelse og med høy tetthet. Prikkene er ikke i alt, de omslutter ikke alt, de ER alt . De endrer ikke karakter når blikket beveger seg fra gjenstand helt nærme, til en fjern horisont eller en ensfarget himmel. Det kan minne om en skjerm med snø, bare med mye mindre, tettere og raskere prikker. De forsvinner ikke når jeg lukker øynene, og er like mye tilstede bak øyelokkene når jeg er våken og når jeg sover. Av en eller annen grunn oppleves det ikke forstyrrende eller hektisk, alt på et vis dirrer av små prikker absolutt alltid, hele tiden. På samme måte som jeg ser prikkene hører jeg dem. Jeg forbinder prikkene like mye med det å høre som jeg forbinder prikkene med det å se. De er en konstant summelyd uendelig mange partikler i voldsom bevegelse. For meg har de to alltid vært uløselig knyttet sammen, sa hun, alt jeg ser er prikker og alt jeg hører er de samme prikkene.
Jeg kan huske første gang jeg reflekterte rundt det for meg selv. Jeg satt alene i stua i en grønn lenestol etter å ha kommet hjem fra skolen til tomt hus, det var på barneskolen en gang. Det var ingen lyder i rommet, og jeg begynte å lytte etter summingen av ALTET. Tror jeg tenkte at jeg kunne se og høre atomene som alt består av. Selv om prikkene alltid hadde vært der, opplevde jeg det som en slags åpenbaring. Litt på linje med når man for første gang virkelig oppdager stjernehimmelen en klar natt på fjellet, og overveldes av det uendelige.
Det som aldri slutter.
Mitt blikk befinner seg over jordens overflate, sa hun, langt nok unna til at jeg kan se hele søkeområdet. Det er som bildet er tatt fra en satellitt mange mil over jordens overflate. Noen ganger viser det seg som en serie bevegelige bilder. Det kan da være fra fortid eller fremtid, hvor den jeg ser befinner seg i stor fare, i smerte, eller ikke lenger er i live. Bildene kan blir lagret og forstørret. En bølge opp fra jordens overflate beveger seg oppover til den treffer mitt «syn», og hvor bildet blir overført til meg.